Welcome to Perch 313
A definition of the word perch is a place to land, sit, or rest.

Hand selected and lovingly curated vintage rugs and textiles. Our products are high quality, sourced from trusted friends in Turkey. Our vintage rugs have been professionally cleaned and are ready for their new homes.
We ship using UPS, USPS, or Fedex using a sustainable poly mailer, made from 100% recycled content. You can reuse or recycle mailer! Our shipping rates are very reasonable, with no extra costs or upcharges.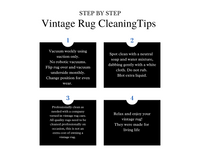 Vintage Rug Care:
We realize the care of vintage rugs may be daunting, but it truly could not be more simple. Vintage rugs sold by Perch 313 have all been selected due to their high quality, and have been handmade, hand knotted with wool on wool or wool on cotton. Wool is highly resistent to wear and contains lanolin which is a natural stain repellent.
SHOP the COLLECTIONS
Return Policy:
We want you to be happy with your purchase from us, we take pride in our vintage rugs and customer service. In the very unlikely event you are not happy with your rug, just let us know within three days of receiving it. It is very easy to ship a rug, we will walk you through the process and you can just reuse the eco friendly bag we sent it to you in. There is nothing to worry about, we are here to help you.
SHOP the COLLECTIONS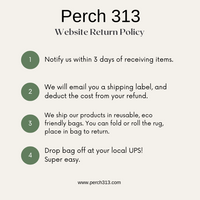 Location
Our bricks and mortar location is called PERCH!
2717 Coolidge Hwy, Berkley Mi. 48072
Opening Hours:
Wed - Fri: 11 - 5
Sat: 10 - 5
Or by appointment
We offer vintage rugs, modern decor, lifestyle items, vintage barware, with a few fun found things mixed in.
We look forward to seeing you soon!
Contact info below for questions and to make an appointment.